Ken Connolly Carolyn Broman Connolly
On Monday, February 10, 2014 at 7:30 a.m., Carolyn Broman Connolly went to be with the Lord. Approximately 28 years ago she had open-heart surgery to replace her mitral valve and has been on blood thinners ever since. On January 22, 2014, she suffered a brain hemorrhage, possibly caused by a fall, and was hospitalized at St. Joseph's Hospital for almost two weeks following an ER visit. She was brought to her home for the final week of her life where she was surrounded by her children and many grandchildren.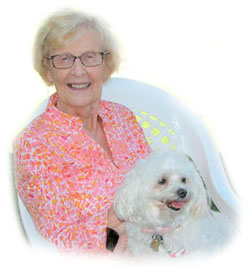 Carolyn was born in Duluth, Minnesota and was very proud of her Swedish heritage. She was a graduate of the nursing program at Swedish Hospital in Minnesota and enjoyed a long career working in healthcare.
In 1966 she moved to California with her family so that her husband could start a church. Not only did she play the role of pastor's wife, but she also worked full time in hospital administration and raised her four children.
The joy in her life was serving the Lord by serving her family and anyone else in her path. God blessed Carolyn with 4 children (2 boys, 2 girls), 13 grandchildren (2 boys and 11 girls) and 5 great-grandchildren (all girls)! She joked that she had 3 favorite grandkids, they all happened to be left-handed just like her, but truthfully, she loved all 13 equally and abundantly.
Carolyn was best known for her hospitality to traveling missionaries and college students who were in need of a place to stay. She was the one to call if you were sick or needed medical advice, always volunteering to take her friends to doctor appointments or sit with them in the hospital. She also loved West Med Retirees luncheons, which she volunteered for. Carolyn lived a long life enjoying every opportunity to volunteer and serve. She will be greatly missed.